My Stealth 12':
My Stealth has an anchor trolley that runs the full length of the kayak; I will soon be modifying this as two separate trolleys which has been the preferred setup on previous kayaks. Homemade trolley systems are great when rigging on a budget but it is completely worth it spending the $15-$30 on a kit with surface mounted pulleys.
A low profile gator hatch up front which my four year old daughter loves, or if I remove the hatch my eighty pound chocolate lab takes charge at the bow. I like to store my rods during transportation inside the hull, I have added a bungee cord that runs across the inside of the hatch to support the rod handles preventing them from rubbing on the inside of the hull and knocking together.
                                                                             (In the X-Factor...but you get the idea)
Next I have mounted a Lowrance M68c GPS/Fishfinder just behind the cupholder with the transducer shooting through the hull. This fishfinder has been great and you can't beat the price for a color fishfinder/gps combo it has saved me from some very long (around the mulberry bush) paddles back to the truck. I used a sponge with a hole cut out and gooped to the hull. It runs off a 12V battery that powers the unit and the livewell at different times, it sits in a waterproof Tupperware inside the hull as well.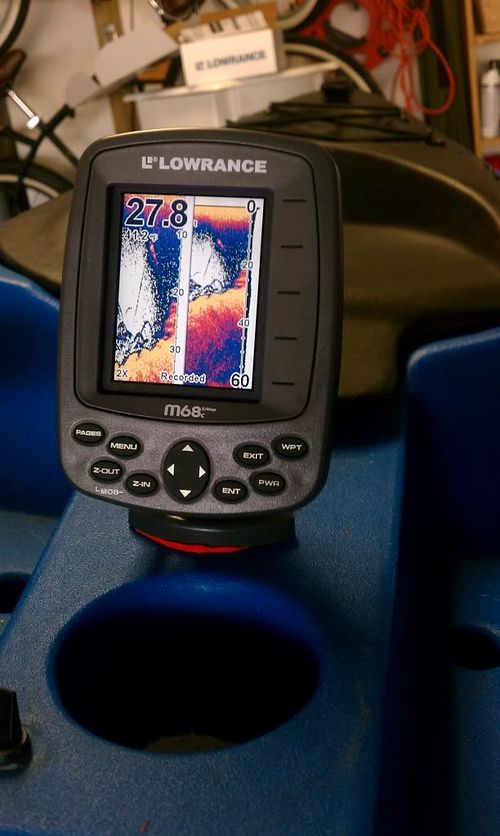 One of my favorite additions is the custom SeaDek from Castaway Customs. Tyler over at Castaway has scanned the Malibu Stealth and can die-cut the SeaDek of your choice for your 12' or 14' Stealth, I think he has only done this for the Stealth, a Native Kayak, and the Hobie Pro Angler. It was very easy to install (just peel and stick) the kit include the foot wells, livewell, and both side hatches. I went with the Aqua Camo SeaDek color and will probably keep the theme on my Tan Stealth 14 coming with the Army Camo. This was the best $50 +$10 shipping I have spent on this kayak providing amazing comfort while standing and makes no noise when I drop a lure or pliers on the yak. If you go to the SeaDek website you can order free samples, ordered a ton, and can now find other uses (cup holder silencer...flush-mount reel rub prevention...inside right side hatch).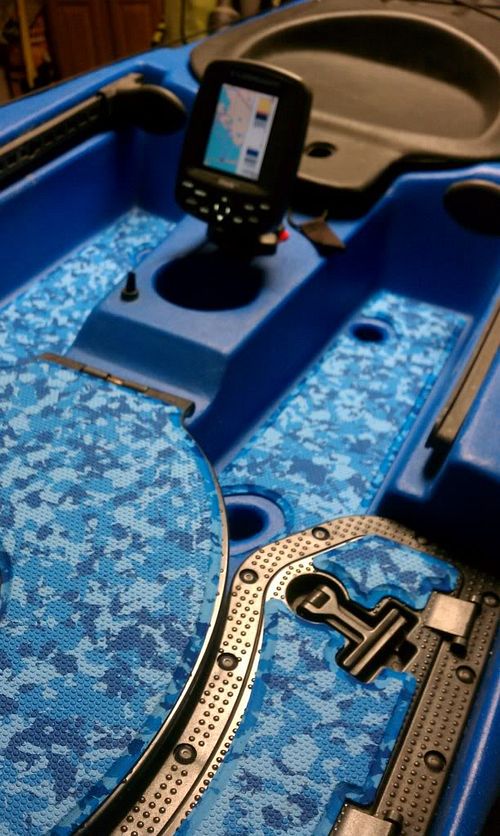 I have been using the flush mounts as of now, will eventually put some Scotty Rod Holders on this, just wanted to wait and find the right place after a few months of fishing with it. Plumbed livewell (which really isn't necessary 98% of the time).  I was in Michael's the other day with my wife and saw some water proof battery operated lights (for centerpiece arrangements) and I will be picking up some soon to light the livewell on my nighttime Haulover Canal trips for giant Redfish.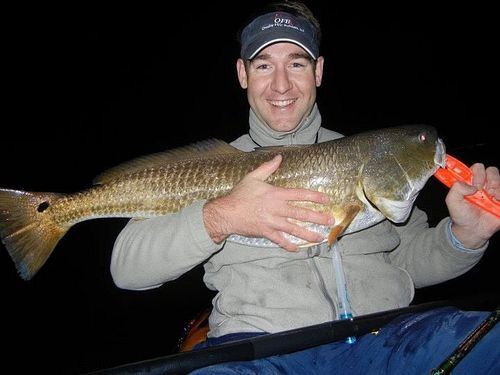 Basic COD seat, will be upgrading the new Stealth to the Spider Angler Seat. I don't use milk crates, I like to use shopping baskets since they are much easier to carry around. I went to my local Albertsons (since they have the larger sturdy black baskets) and asked the manager if I could purchase one, he had no idea and said just take one since nobody has ever asked (since I have started this... now several others that have done exactly the same with similar results). I mounted some upright rod holders to one end of it and cut two foam golfballs in half and gooped to the bottom as feet so that the basket slightly sits high and dry and is quiet if it moves. I may do away with the bungee on the back tankwell like I had on my previous kayak and mount a buckle strap to each side of the basket which clicks to a strap coming from the kayak. I like this because it's one less thing to do when unloading... just set basket in... click in place and go… no hassling with bungees.
I have two stake out poles for different fishing areas, when going to Mosquito Lagoon I am usually in only 3 or less feet of water so I use a graphite driver shaft (golf club with head sawed off). You can buy an old one at Play It Again Sports for under $10. My other SOP is a longer wooden broom handle with a sharp point. I wrapped it with electrical tape to prolong it a bit. I use old car charger curly cords to attach SOP to anchor trolley. I also use those cords to make rod and paddle leashes when going out in the ocean.  When in deeper water I use a seven pound dumbbell attached to a 25' retractable dog leash.
I have started to minimize thing I bring out on the water for casual trips and have picked up three small Plano boxes that I can squeeze in the tackle necessities and all three will fit in the right side hatch, lip grippers, pliers, measuring tape, and soft plastics go in the dry livewell. My camera mount is affixed to my tournament measuring board which I fasten to the bungees on the gator hatch (for video on how to make measuring board CLICK HERE to see my blog).  I could talk about my Stealth for hours, and sometimes do, so if I am missing anything please ask.